***DISCLAIMER*** I want to say that before you read this thing, just take it with a grain of salt. I'm not an expert in health or economics; I'm just a guy stuck in quarantine with a lot of time. These are just my opinions and you should live your life how you want to . . . well, only if you don't harm anyone by coughing on 'em. Man, I have so many feelings. ***DISCLAIMER***
Coronavirus. It's still happening. State governors are trying to manage the number of new cases, flattening the curve, by implementing "social distancing" rules. Unfortunately, this controversial method has caused many citizens to lose their jobs, hurting the American economy. Boy, I would hate to be one of those "credible" news sources and government officials who publicly made comments downplaying the Rona . . . Huh? What do you mean Fox is trying to change their Coronavirus coverage history? And what? Those government officials actually profited off the Rona by selling a bunch of their stocks right before everything came crashing down?
L.O.L., almost had me there. Wait, that actually happened?
Oh, moving on, I guess.  
After a few weeks of cabin fever, some people have had enough! Across the nation, a mixed bag of the unemployed, racists, and Karens have gathered at their city halls to protest "Shelter in Place" laws to reopen the economy. Despite the warnings of many health officials (and lives lost), the protesters believe their financial well being is more important than the threat of a pandemic.
With more than 26.5 million Americans filing for unemployment insurance, it's hard not to empathize with their economic concern. But if we were to go back to work, we have to consider what's more important: the American economy or the potential lives that might be lost from reopening too soon?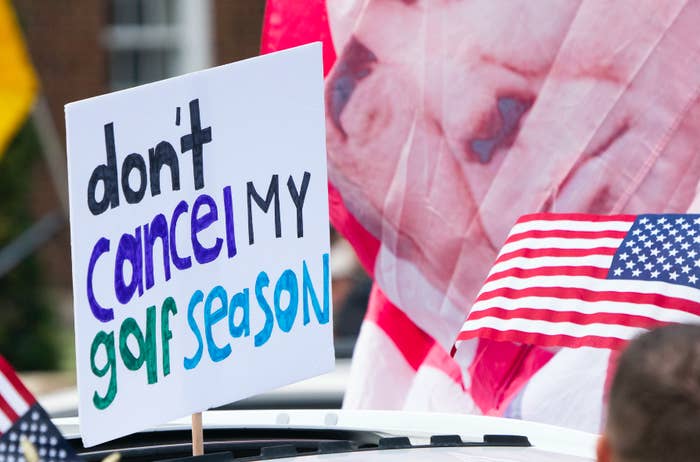 Sad to say, they do have a valid argument. Then again, there are those assholes who want to reopen because they want a fucking haircut. These shallow reasons are disrespectful to medical professionals and to the lives of those this virus has affected or taken. There's no reason to tell those who have put their lives on the line to go fuck themselves because you want to go golfing.
Putting economic fears aside, protesters often support their reopen agenda by claiming that the coronavirus has a "low death rate" when compared to the flu.
According to Live Science, this statement might be false: "Though the death rate for COVID-19 is unclear, most research suggests it is higher than that of the seasonal flu." When compared to the 0.1% death rate of the common flu, the death rate of COVID-19 is almost 10 times more. 
"Since this disease is caused by a new virus, people do not have immunity and a vaccine may be many months away," Lisa Lockerd Maragakis, M.D., M.P.H., senior director of infection prevention at John Hopkins wrote. In a review, she suggests how some cases of COVID-19 can be more fatal than the flu. "But at present, it [mortality rate] is thought to be higher than that of most strains of the flu."
The National Review also reported that 34,200 Americans died from the flu in 2018-19. As of right now, the number of coronavirus deaths is well past 50k. Soooooo, yeah.
In spite of science, many radical news sources (and unfortunately the president) still preach how the "flu is deadlier than the Rona." But hey! What do these scientists doing clinical research know? Facts aren't important if you have the power of Christ on your side. You know what spreads faster than this "Chinese Virus"? Misinformation!
I can't believe I have to say this: FACEBOOK IS NOT A NEWS SOURCE! It's the cesspool of information. An alarming 62% of Americans get their news from Facebook and other social media platforms. 
While Rona Deniers echoed about "low death rates" on social media, doctors and nurses in New York were scrambling to store their "low death rates" in freezer trucks. It's easy to forget how each tally of death used to be a living person when you're throwing numbers around.
Dr. Colleen Smith felt how human the rising death rates in Queens can be. She said the medical staff at Elmhurst Hospital struggled without help from the federal government. She expressed her concerns about the availability of beds and the risk of medical professionals being exposed to a virus they have yet to understand. But, whatever, it's her job and what happens in N.Y. doesn't affect small grassroots towns. Right?
Melissa Steiner, an I.C.U. nurse in Michigan, described her first day in the pandemic as "working in a war zone." In her video, she broke down in tears as she recounted how the overwhelmed staff had to make do with limited supplies. But since the number of cases has gone down, she shouldn't have to worry about having another horrific 13-hour shift. Right?
Some protesters are saying that "people are going to die anyway, so we should just reopen the economy." I'm sure Keiko Neutz's family (a family who had to say their goodbyes through a series of video chats) would think sacrificing a few lives just so some people can have a bowling night would be ok. Right?
Muhammad Siyab Panhwar (a cardiologist in Louisiana who watched his patients die) and Calvin Sun (an emergency physician in N.Y. who is frustrated with how the federal government handled the pandemic) should be used to telling family members their loved ones died from the Rona by now. Right?
Wrong! Mother fucker! *You have to read that in a Samual L. Jackson voice*
The increasing number of angry protesters has started to interfere with many medical professional's jobs.
"It's unfair for the people who have to go to work, every single day, especially at the hospitals," James Smith, an employee for Sparrow Hospital in Lansing, MI, said in a viral rant. He is frustrated because his ambulance was blocked by the protester's cars during an emergency. "If y'all don't take your asses home, this is what I'm mad about. Y'all are idiots. I can't do my job."
Photographer Alyson McClaran captured two people in Denver wearing scrubs counter-protesting the reopening protesters who were protesting the government "Shelter in Place" law with a protest of their own by blocking the road. Boy, that's a handful to say. One of the counter-protesters told Westword that her name is Jo and is a physician assistant. In an interview with TIME, McClaran said she "[believes] they were health care workers."  
But it seems as if in the midst of all this tension, protesters have started to harass nurses. In one of McClaran's photos, the male counter-protester was told to "go back to China" by a woman leaning out of her truck. Real original. 
"We're trying to do the right thing, and we don't need to get attacked," a nurse said in a video by NowThis Politics, "it's not right to get attacked." The video shows protesters shouting obscenities at nurses who are counter-protesting the reopening rallies.
"It really feels like a slap in the face to medical workers," Alexis, a nurse from Denver, said. "I don't want to be stuck in the house either, but that's not the point." It boggles my mind how some protesters would stoop so low by trying to discredit these nurses who are on a suicide mission to protect their ungrateful asses.
"And they are saying to open P.A., with no testing, it's like they, they don't care about life," a nurse from Harrisburg cried when she found out people were protesting to reopen P.A. "They don't care about the people around them and the people they love. I care about the people."
Sarcasm aside, I want this virus to end, too. I'm going crazy. I want to do hoodrat things with my friends. But after hearing all these medical professionals' emotional experiences, it makes me question what's really important. Just look at this Saudi doctor who broke down in tears when his son tries for a hug. Heartbreaking.
"It's disrespectful, narrow-minded, and ignorant," John Austin, 32, from Los Angeles, said of the recent protest. He is one of the many who have lost someone to that cruel bitch, Rona, and does not want to risk any more lives. "We absolutely could've prevented many of the deaths had our federal government been more proactive." 
 Austin is not alone. In an N.B.C. News/Wall Street Journal poll, nearly 60% of Americans are concerned that reopening the economy too soon will be detrimental. 
Dr. Fauci, director of NIAID, told CNN that reopening too soon can potentially lead to a future outbreak. And if we reopen the economy, it's the workers who are at risk of exposure, not Karen. She only has to be out for her one-hour hair appointment before her brunch session with the gals, where she's can't wait to yell a whole quarantine worth of complaints to her server. #GETEXCITED 
And guess who has to go through the cycle of deaths and tears again? I'll give you a hint, it's not those pretty people on Grey's Anatomy.
But let's go back to that, the whole needing to working for a living wage thing. Yes, it's horrible that many small businesses are shut down or in danger of permanently closing, but are there really no jobs available during hashtag CoRonaTime?
A sassy reporter also was wondering this when she asked N.Y. Gov. Cuomo about employment concerns at a press conference. And when he answered, man, he wasn't having any of it.
"You want to go to work? Go take a job as an essential worker," he said. Man, I haven't heard a clap-back that hard since Charlie Murphy slapped the shit outta James Brown. Cuomo said that if you really want a job, you can find one. "It's not just about you, you have a responsibility to me. It's not all about you. . . and nothing comes before the public health risk of somebody else's life."
So, I guess when people are protesting for haircuts and golf courses, what they really mean is that they want you to go back to work and risk your life so they can get their first world privileges back. Cuz Merica! Fuck yeah!  
"It's easy to dismiss the anti-lockdown protest as business," Maia Niguel Hoskin wrote in Vox op-ed. She argues how some of the protesters' ideals are racist and only benefit a select few while hurting the poor, working class. "And if they do return to 'regular life' and refuse to distance themselves, their overt disregard will impact the population most vulnerable to the virus – black people." 
These people are "essential workers," not sacrificial lambs. 
I mean, your Rona job doesn't have to be permanent. You can drive for Uber, or deliver for DoorDash, or even set up an OnlyFans. And you don't even have to get naked or do sexual stuff; some girls make a bunch of money from just showing their feet. Don't let anyone tell you that showing your feet online isn't a real job, cuz them dollar signs don't lie.
So there are jobs out there, money can be made. It's not going to be easy. But maybe you're not trying hard enough. Perhaps you just need to realize your worth and get whatever job you can right now to pay the bills. Oh, snaps, boomers! Doesn't sound reassuring when you hear it, huh?
Behind all the jokes and comments I've, I believe the argument to reopening the economy so people can make a living wage is valid. And if you want to protest, go ahead, it's your constitutional right. *Cough* Just like Pro-Choice and B.L.M. *Cough* Irony *Cough* With many states already starting to reopen, I know many people will begin to feel that FOMO.
However, if 60% of Americans and many medical professionals think that reopening the economy prematurely will jeopardize our chances of combating the virus, maybe we should listen. Or, at the very least, come up with a better reason than your First World Problem when protesting, selfish prick. 
PS, this song below describes my love for musicals and how much I miss my friends during the quarantine.